I followed this solution to get album art to show up and surprisingly for 8300 or so songs across all genres I think the database had 90% of the covers I was looking for. And what I could not find I changed the title of album (from The Essential Waylon Jennings to Waylon Jennings Greatest Hits).
I was surprised at what the Gracenotes DB had like some Grateful Dead Dick's Picks, Rocky Horror Picture Show, Cornershop but they do miss some.
Let me know if you need assistance
Good luck it was painful but works well
SOLUTION - Fix RHR 730N album artwork not displaying
I realize that this is an older thread however I know that a lot of people have the RHR 730N radio and still suffer from the problematic Gracenote's artwork database. I do have some good news which may help a lot of people have a fully functioning artwork database.
Here is what I have discovered through exhausting trial and error
:
*Album art is
ONLY
displayed based on the ALBUM name in your music's metadata / mp3tag or by entering it manually on the RHR radio from the EDIT INFO button while a song is playing. It does not make a difference based on song name, artist name, track number, track length etc. You can have Metallica album artwork show up for Frank Sinatra as long as the album name is correct. *
The only time a correct artist name will be necessary is when you are adding a "Greatest Hits" or "The Very Best Of" type album since these are very generic album names which use the Artist name to link to.
*
*Gracenote's database (Version 6168 is the most recent I could find - download link below) for the RHR radio does
NOT
contain all of the albums in North America. Therefore, if you enter an album name for a song or artist, there is a fair chance that it may not be in the database. This means you will either get the generic Gracenotes genre album cover or the "Uconnect" cover. I found that the UConnect cover only shows up when the ARTIST name is not recognized, for example naming an artist "Dion and The Belmonts" instead of "Dion & The Belmonts"
*
WHAT TO DO
* Before you start, download the programs I linked to below which are Mp3tag, Notepad++ and the RHR-6168 Gracenotes Update Disc. Open the Gracenotes disc and in the GNDB folder you will find a file named
album.tbl
. This file contains all of the names of the albums available which have corresponding artwork. The album.tbl file should be renamed to
album.txt
and then opened in
Notepad++
. Once the album.txt file is opened you will notice that most of it is unreadable. Don't worry as the names of the albums are searchable and show in plain text.
*
SOLUTION
* Using Notepad++, search for your artist name or album name using the "Find" feature. In my opinion it is easier to just search for the album name you are looking for. For example, if you search for the album "
The Best of The Beach Boys
" it will locate the text string in the document. If the text string is there, there is artwork available. EXAMPLE: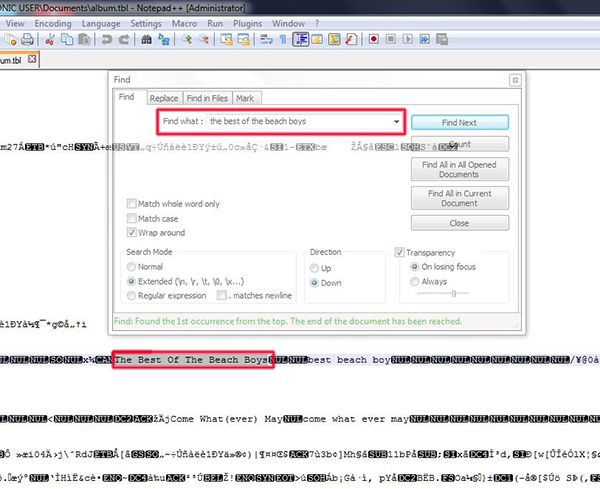 Now copy the text string
EXACTLY
as it shows and then add that to your song's album name in the metadata using a program like Mp3Tag. See below for example: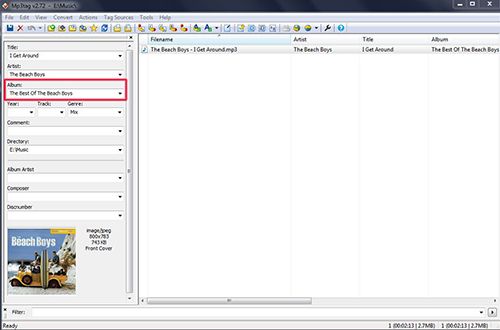 When you copy your new song to your RHR 730N's hard drive, your song should now look like this: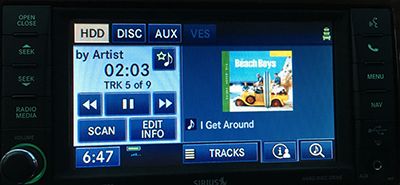 *VERY IMPORTANT*
Album names located in the album.txt file must be entered
EXACTLY
as shown or they will not display. If the album name is "Club Mix: The 90's [Disc 1]" it has to be entered just like that (without the quotes). The process is a little painstaking but once your library is finished it will be nice having artwork for all of your songs. To recap, many of the albums you enter will be in the database but for some artists you will be disappointed to find that that there is nothing available. Below are some examples of generic albums which I think are appealing for those artists where you cannot find an album:
So what happens when you have an artist who has NO albums available? Well you have an option. I chose to search for some compilation albums by decade like "Oldies but Goodies" "Awesome 80's" or "Club Mix.". Your song may not have actually been part of that album but if the album art is available why not use it, right?
Ultimate Oldies But Goodies Collection [Disc 1]
Classic 80's: 18 Gotta-Have Hits
Club Mix: The 90's [Disc 1]

I used a free mp3 metadata editor to update my music archive which you can get:
Mp3tag - Download
I used Notepad++ to view and search the album.txt file which you can get here:
https://notepad-plus-plus.org/download/
I downloaded the latest Gracenotes Database disc for the RHR (Version 6168) from:
NavRepair | Quality Factory Automobile Navigation Radio Solutions ? NavRepair.com
I have not tested this using an iPod or
iPhone with Bluetooth
streaming however if I do I will edit the post to report if it works for Bluetooth as well.