Quote:
Originally Posted by
lysol
Hey Jim, could you mount an ipad off that mount if you wanted to and interchange between the phone and tablet?
I suspect so, but I'd seriously recommend putting the extra screw in like I did on the Kudo mount's tab that goes behind the center console bezel to insure the weight of the larger device is accommodated. I used a very small #4, 1/4" long screw to do that as I felt that end was too unsupported. From there, you'd want an actual device mount that will support hot-swapping devices. If you use something "bendy" enough, the passenger could enjoy media entertainment from a tablet without having to hold it in their lap, too.
If you want to see this thing up close, I'll likely be in your area early next week as I have a customer briefing in Fairfax just a couple exits west of you on 66. I could message you accordingly.
__________________
2012 GC Overland Summit - Winter Chill with New Saddle interior. 5.7L HEMI V8 - Pirelli Scorpion Verde Plus "shoes" - LED fogs and DRLs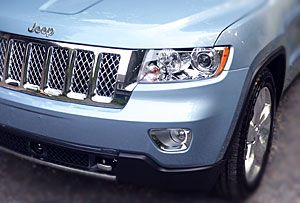 Day-job...Telecom Technical Sales
Avocations...Woodworking, Equestrian, Food, Photography