11-05-2010, 02:16 PM
Amber Instigator

My Jeep: 1997 2.5L TJ

Join Date: Sep 2010

Location: Vintondale Pa.

Posts: 3,194

Thanks: 104

Thanked 77 Times in 72 Posts

Rep Power:

332989
ArmorAll Wheel Protectant
---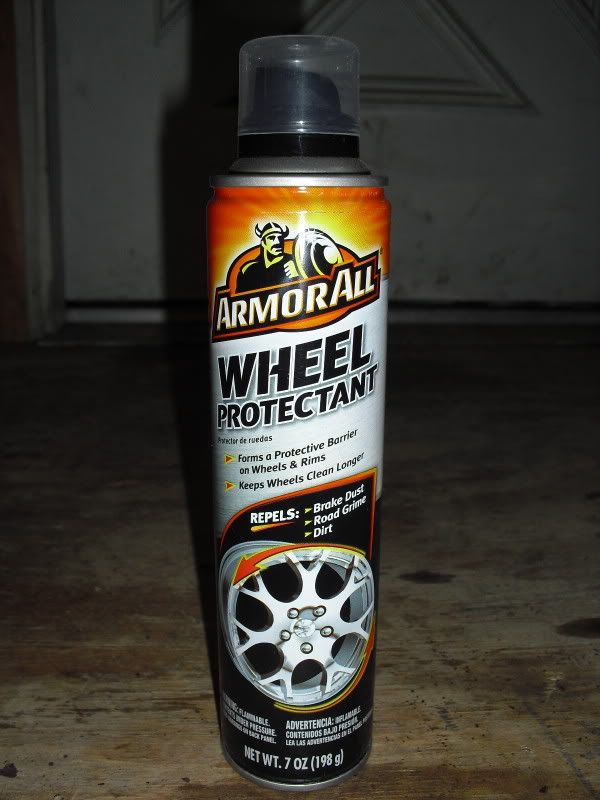 This stuff seems to work as described. Wheels seem to come out of the car wash cleaner.Can says it lasts about a month IMO a little less.where this product seems to shine though(pun intended)is on the calipers. I don't know if the heat has anything to do with it but my calipers stay amazingly clean now and when dirty a quick blast with a hose and good as new. So I would say on the Dave scale Wheels 7 Calipers 9. Downside: Price $9 a can little left after 4 wheels and calipers Update:Found it for $7 at Walmart.
__________________
Dave'04 Overland,I don't even remember what I did to it anymore.


11-13-2010, 11:15 AM
Senior Member

My Jeep: 2006 3.7L WK

Join Date: Jul 2009

Location: Lone Star State

Posts: 10,323

Thanks: 5

Thanked 3 Times in 3 Posts

Rep Power:

13349
Re: ArnorAll Wheel Protectant
---
thanks for the info, I personally use the Meguairs tire shine gel works for me
__________________
[SIGPIC][/SIGPIC]
11-13-2010, 11:17 AM
Premium Member

Join Date: Jun 2009

Location: City that Never Sleeps

Posts: 9,451

Thanks: 592

Thanked 330 Times in 251 Posts

Rep Power:

1661338
Re: ArnorAll Wheel Protectant
---
might have to go get a bottle especially if it keeps the calipers clean!
__________________
2009 Jeep Grand Cherokee SRT Design
SRT Exterior,Magnaflow 14590 w/ SRT resonators,V2 CF Medic Hood,Injen Powerflow Intake,Flying Ryan Ported TB,Custom Painted Halo Headlights,HID lows/fogs,SRT Springs,Stillens,Gloss Black SRT Reps,Mopar Spoiler, Custom Painted Moldings with Snakeskin green GC letterings, Mopar Stripe,Tinted LED tails/rear fogs, TLS Harness,Switchbacks, Stage6 5" Tips,Custom Door Handle Leds,5% Tint,Altec Plate,HID Reverse,Mopar Front Emblem/ Rear Logo,Powerwire,Interior Leds,RGB LED cupholders,Mygig,Weathertech Mats,LXHarness Leds,Rear Cargo Light Mod,Lockpic V4,GlossBlack Vinyl Interior Pieces
11-19-2010, 11:10 AM
RockNrolla/JG Founder

My Jeep: 2008 3.7L WK
Re: ArmorAll Wheel Protectant
---
this is good stuff. a comparable product is the meguiars ultimate quick wax on your rims or poorboys wheel sealant. i have also tried opti seal on the rims but found ultimate wax to hold up the best and easiest to put on. they now sell the ultimate quick wax by the gallon and its only $30!!!
__________________
Irfan
"Showing off is the fool's idea of glory."
can you beat me in a fight???
http://dreamps.mybrute.com
member of Black, Tri-State, 6 cylinder club
08 Brilliant Black Laredo
(JG 3.7L Squad)
- k+n 63-1545,magnaflow 10436,mygig(ren), HID's 6k lows, 6k+3k fogs,dual turn leds,led brows,v-led interior leds, cargo led strip, reverse hids, 92 led brake lights, tinted tails,custom powder coated mesh grill, srt sways, 15% tinted windows,illuminated visors,shorty antenna, HH Class III, cargo liner, thule snowboard rack,kayak rack, bike rack
Future mods - color matched side mirrors, black srt reps
My 1-step correction writeup
How To - LED BROW

11-19-2010, 05:24 PM
Rock N' Roll's Sophisticate/JG Co-Founder

My Jeep: 2016 6.2L sc SRT8

Join Date: May 2009

Location: Downtown Manhattan

Posts: 10,675

Thanks: 14

Thanked 183 Times in 122 Posts

Rep Power:

184836
Re: ArmorAll Wheel Protectant
---
I use it after every wash. Keeps my wheels mucho cleano.
__________________
-Joe-

2016 B5 Blue Hellcat Charger
SOLD: 2015 Jeep Grand Cherokee SRT
SOLD: 2010 Jeep Grand Cherokee SRT
SOLD: 2007 Jeep Grand Cherokee Overland
07-19-2011, 10:38 AM
Member

Join Date: Jul 2011

Posts: 10

Thanks: 0

Thanked 0 Times in 0 Posts

Rep Power:

2150
Re: ArmorAll Wheel Protectant
---
Have used this twice ... Seems to last 2 weeks or so for me.
Posting Rules

You may not post new threads

You may not post replies

You may not post attachments

You may not edit your posts

---

HTML code is Off

---
» Recent Threads