Re: Front parking sensor- Can it be added to a non Summit model?
---
Quote:
Originally Posted by
JWS360

What I don't get is why Jeep doesn't even OFFER a lighter interior in the Summit. Many, like me, dislike the alternative, a black interiors.
I absolutely support this argument and have said so a number of times here. There are many of us who just cannot stand dark interiors. My saddle interior pushes the limit for me with all the black that's included...
When I do a vehicle refresh in a few years, I truly hope that the Summit level trim offers a lighter choice.
__________________
2012 GC Overland Summit - Winter Chill with New Saddle interior. 5.7L HEMI V8 - Pirelli Scorpion Verde Plus "shoes" - LED fogs and DRLs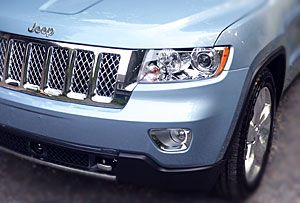 Day-job...Telecom Technical Sales
Avocations...Woodworking, Equestrian, Food, Photography