You '06 boys feeling left outta the rear fog club? No fear, I've made provisions for you.
This thread is for the harnesses that work with '06 Jeeps (3-bulb taillights). If you like what you see here but have an '07+, check here:
http://jeepgarage.org/showthread.php?t=1286
*****PLUG-N-PLAY REAR FOG LIGHT ACTIVATION HARNESSES*****
These harnesses are for '06 SRT8's with the 3-bulb taillights. They plug into your 4-pin trailer wiring and plug in to the rear fog light on each side. They give you 3 functions: running lights, brake lights, and turn signals.
THESE HARNESSES ARE 100% PLUG-N-PLAY
. Here are some pics:
Plugs into your ACTIVATED 4-pin trailer wiring:
Other ends plug into your rear fog lights:
I include a cover to put over your existing wiring (if you have it):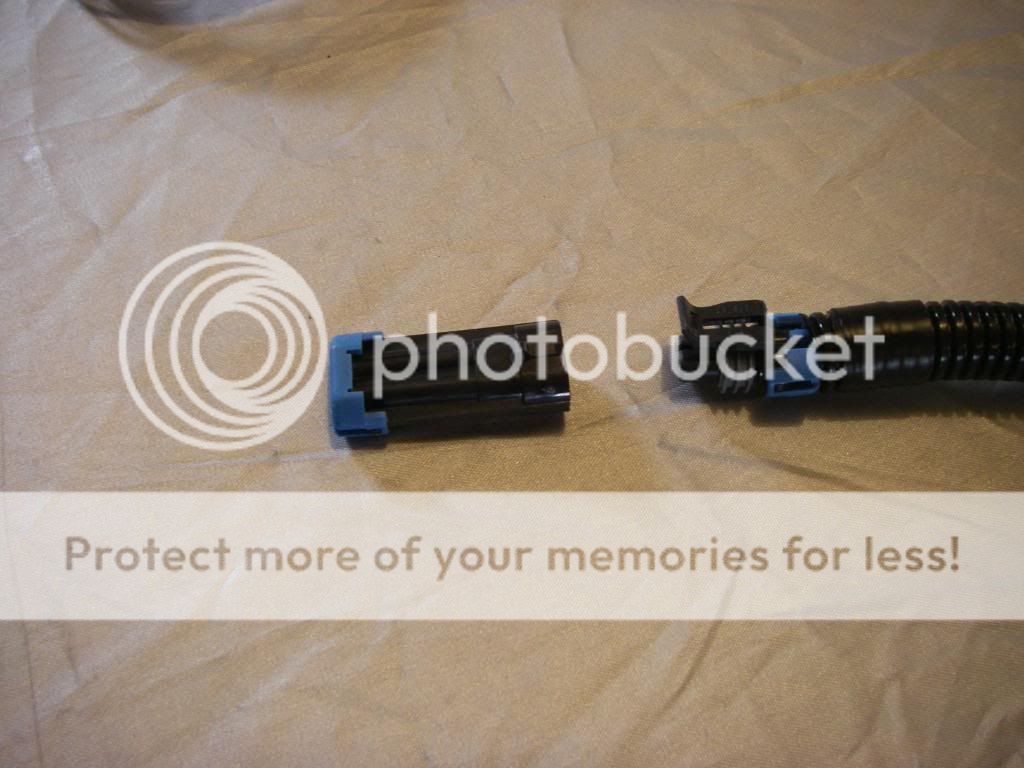 They are currently offered in 2 flavors:
"STOCK" HARNESS:
This harness utilizes all stock components. Every SRT8 Jeep I've come across already has bulbs and bulb sockets in the rear fog lights. This harness will activate these rear fogs without anything more than a 5-minute installation. Now, I realize the bulbs in the rear fogs are single-filament bulbs. Don't worry. Due to some fancy wiring, I was able to make them function as dual-filament bulbs, giving you running lights, brake lights, and turn signals with the stock setup. This harness will only work with incandescent bulbs. IT WILL NOT WORK WITH LED BULBS!!! If you prefer to run LED bulbs, check out the "LED" harness below.
"LED" HARNESS
This harness is for the discrimating jeep owner who wants to run LED bulbs in everything. It works the same as the stock harness, but is constructed to work specifically with LED bulbs. The bulbs I designed them to work with are from V-LED's, here's the link:
http://www.v-leds.com/Exterior-LED/P...35724-1-2.html
Other members have confirmed that they do work with other LED bulbs, but I do not have any sort of list of what works and what doesn't. I do NOT provide any bulbs. The harness is still 100% plug-n-play, but with the added step of replacing your bulbs with the LED ones (a 2-minute job). You still get all 3 functions - running lights, brake lights, and turn signals. This harness WILL NOT WORK WITH INCANDESCENT BULBS!!! If you prefer incandescents (or want to use the stock bulbs), check out the "Stock" harness above.
*****IMPORTANT NOTES ABOUT HARNESSES*****
First of all, the number one point of confusion with these is that the taillights you have on your Jeep matter in harness selection. THEY DO NOT! The only thing that matters is what type of bulbs you want to run
IN YOUR REAR FOG LIGHTS!
If you wanna use stock bulbs, get a stock harness. If you wanna use LED bulbs, get an LED harness. If you have LED taillights, this does NOT matter at all.
Second, the harnesses are NOT interchangeable. If you buy a stock harness and try to use LED bulbs, there will be no noticeable difference between your running lights and brake lights/turn signals. Conversely, if you buy an LED harness and try to use incandescent bulbs, your running lights won't come on at all (accompanied by the good possibility of frying the harness).
INSTALLATION
Installation is simple, usually requiring less than 5 minutes. Plug one end into the trailer wiring, plug the other ends into your rear fog lights. I currently don't have a writeup on this. If there is big interest in these, I will do one. Otherwise, I will offer the first person to do a writeup a $50 "rebate" on their harness.
PRICE
Price for either harness is $125 + $5 shipping in the USA. I ship using USPS Priority Mail because it is both cheap and quick. I do ship international, however additional shipping costs are involved. So far, I've only shipped internationally to Canada, so I know that is $15 extra. If you'd like them shipped to another country, PM me and I'll quote you.
Furthermore, as an option, I can build the harness with a pass-thru on the 4-pin connector so you can tow without unplugging the rear fogs. This is $10 more ($135 total + shipping).
*****CONTACT INFO*****
If you're interested in getting a harness or have questions, you can PM me. Alternatively, if you don't have any questions and just want to buy one, you can send paypal payment to
[email protected]
. Be sure to include your forum username, the year of your jeep, as well as harness type (Stock or LED) and whether or not you want the pass-thru.