So last week I started building Matt's box design for 1 10" sub, But after realizing my amp was to tall to put under my cargo tray I decided to build something that would go in the cargo tray's place.
I talked to my friend Paul, He owns a mobile audio shop, And has tons of experience fiberglassing. He said he would give me a hand building it, So that's what we did.
First we started off by tracing the tray and cutting out two rings from MDF that will eventually raise the box up a couple inches. (the first ring is 2" the other is 1") then figured out where we wanted the amp (left side), then i taped off the whole right side which will house the enclosure.
Once that was taped off, You can mix your resin and hardener. Then I cut up some fiberglass mat into random size squares, Then just lay them on and keep soaking up the resin. make sure to get into the corners really good.
I left it overnight to cure. once it was cured I cut a ring out of MDF about an inch wide, to support the sub. Then measured and cut a few pieces of scrap to hold the ring up straight. Screwed all of that together.
Now it was time to make the actual sub enclosure, Start by buying some really stretchy fleece, Take some spray adhesive and spray it all around the bottom wooden rings, Now stretch the fleece tight and smooth.
Now saturate the fleece with resin, and add more fiberglass mat. We mixed the resin pretty hot to get it hard quick. then let it sit in the sun for an hour. This is the actual size of the sub enclosure, the rest is just there to cover the amp.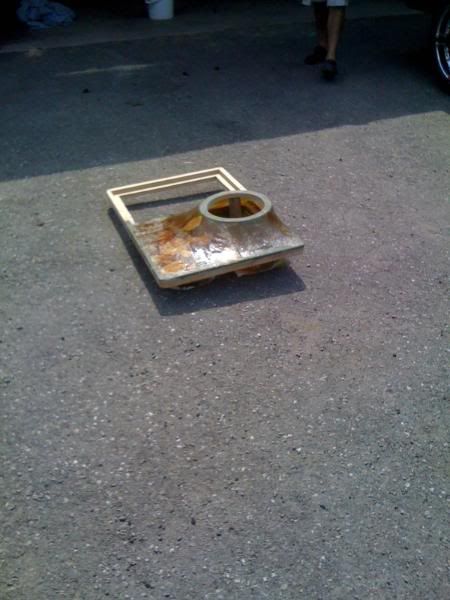 Now take more adhesive spray and spray all around the bottom MDF rings, Cover the entire thing with fleece, soak it in resin, But no fiberglass mat this time because it's not structural and it needed to be very smooth.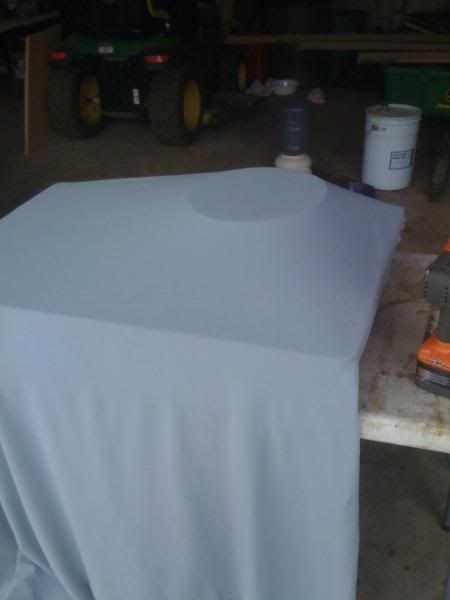 Once that's hard, You can cut out the whole for the Sub, remove the supports for the MDF ring. Drill holes for your speaker wire, and get ready to carpet it. I chose carpet because I don't have time to bondo it and smooth it out completely. Remember, this was the first time I have ever done something like this, Granted I did have help from a pro.
So all in all i'm happy with it. sounds great!!! the only problem I have with it, is the color of carpet. I went to a carpet store and they had my color exactly, But it was discontinued. This was the closest option. doesnt look to bad in person. also the sub is a 10" Pheonix Gold Titanium Series.
I think the airspace was .88? can't remember
so here it is, all done!!! now my Jeep reeks like resin! ill get some better pictures with my good camera, All I had at the time was my iphone.