Discussion Starter
·
#1
·
ok so here we go kids!!!
I took off on monday so i could detail my truck. I decided to go with a 1-step correction b/c i wasn't looking for a 100% finish with winter coming up. I will do a full correction come spring. I decided to use Meguiar's D151 cream as my all in one choice. It polishes/waxes in one step.I will add 2 thin coats of M16(meguiars paste wax) in a week or so for my winter protection
First i washed the tires/rims/wheel wells with my dedicated brushes/bucket for the tires
i sprayed APC+ (meguiars) diluted 10:1 on my wheel wells and my tires and then scrubbed them really good to get them clean. i then used reg car wash from the bucket to wash the rims with my soft brush.
the long carrand brush comes in handy for cleaning the wheel wells. i used a short stiff bristled brush to clean the tires. rinsed all the areas and left them wet bc i would be washing the truck right after.
Second i washed the truck via two bucket method with grit guards in both buckets.
my wash media consisted of two microfiber mitts(1 for upper panels, 1 for lower panels) my soap was meguiars gold class mixed in with 4 gallons of water and 4 ounces of soap.
i always wash the roof first, then the sides(including the windows),the front(windshield), and then the back, lastly the bottom panels all around(with dedicated bottom panel mf mitt).
I then took off my fireman nozzle and sheeted as much water off the truck as i could to make drying easier/quicker. I used 2 waffle weave microfiber towels to dry my truck. starting with the windows first, front,then roof, sides,and back. i dont worry about the bottom panels at this point bc they are clean so they can be dried with the ww towels.
sounds anal right? it is but i know im not inducing swirls/scratches onto my truck can never be too carefull with black paint!!!
Third i clayed the entire truck with meguiar's clay kit, i did use a different detailer spray. i used meguiar's speed detailer since i still had 1/2 a bottle left of it
i used 1 full bar out of the 2 to do the entire truck. I break apart the bar into thirds so that way if you drop a piece of clay you can throw it out and still have clay left to work with. I can't say how important it is to NOT use a piece of clay if you drop it!!!
when you use the clay spray the detailer onto a small 2'x2' Make sure you have plenty of lubrication on the paint when using the clay. the clay should glide easily on the paint after you have picked up all the contaminants on your paint.
When you are done with a section knead the putty and flatten it out again to use on the next section. I clayed the entire truck in less than an hour. the paint felt sooo smooth after it was done. i was shocked on how much stuff gets picked up that you don't even see/feel on the paint.
Fourth i taped the entire car's plastic/rubber trim with 3m blue tape. this will prevent any white residue from polishing/waxing the truck in the next step
Fifth i polished/waxed my truck. I used my PCXP and 2 orange lake country pads(2 was definetly not enough i am ordering at least 3 more orange pads) on speed 5. i primed/polished via kevin brown method.
i did about 4 passes on each section with the pc on speed 5 and clean my pad on the fly after every panel. i cleaned the pad on the fly with microfiber towels.
I worked in sections of 18"x 18" and made 4-5 passes on each section with 15-20 lbs of pressure on the pc at speed 5. this enabled to remove those deadly swirls!!!
After each section was done i would wipe off the product with a plush high quality mf towel. i have roughly 200 mf towels now and they are all categorized in diff boxes so i can't rem what name brand they are
after 2 sections i would re-prime the pad and add 3 small drops and start again.after finishing the first section, i used a 50-50 mix of IPA to check to see if the swirls were gone or if the d151 was simply filling in the swirls. they swirls were gone
i used a plush mf towel for this. i then again went over the section with the 151 again on speed 3 and did 2 passes with light pressure (to put the wax back on there that's in d151)
After the whole truck was done and i made sure no d151 was left on i hosed down the truck with my fireman nozzle to get rid of the dust from polishing/waxing and then dried again with my 2 ww towels.
after the truck was dry i also used separate mf towels to dry my tires/rims. I then applied poorboys wheel sealant on my rims and buffed off with separate mf towels. i then dressed the tires with meguiar's hot shine spray via eagle one tire applicators.
I then sat back after 8 hours and said holy chit this truck totally changed colors!!!! it now has a deep black shiny finish where before it looked slightly gray. the flecks in the paint shine insanely in the sun now. it was around 7 pm when i finished so the shots weren't exactly perfect and it rained yest so that ruined my chance of sun shots but i managed to get a few before i walked into work.
i started at 10:30 am and finished at 7 pm. I took a 30 min break to make myself a double egg and cheese
hope you enjoyed reading my story... now i have to write up the boat detail
pics (i kept them at 640x480 since i have a lot to upload and post) if anyone wants to see larger pics i can upload them again at full resolution. I plan on putting M16 on my truck in the next week or so, i will def get some nice sunny pics at that time to show how the paint looks: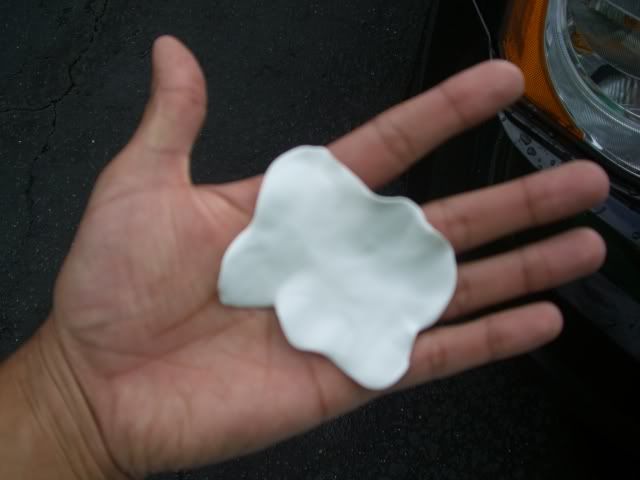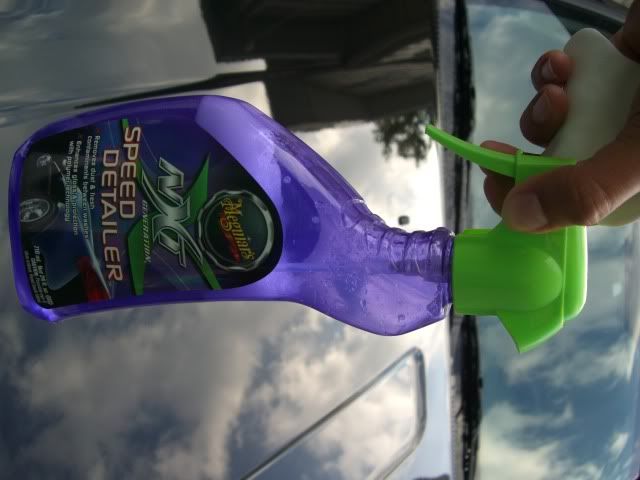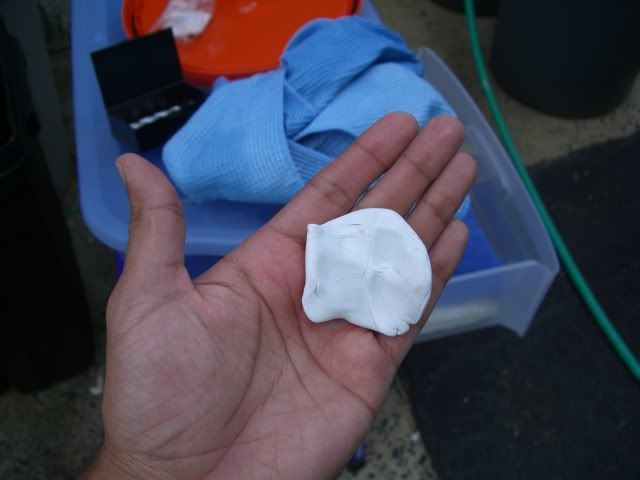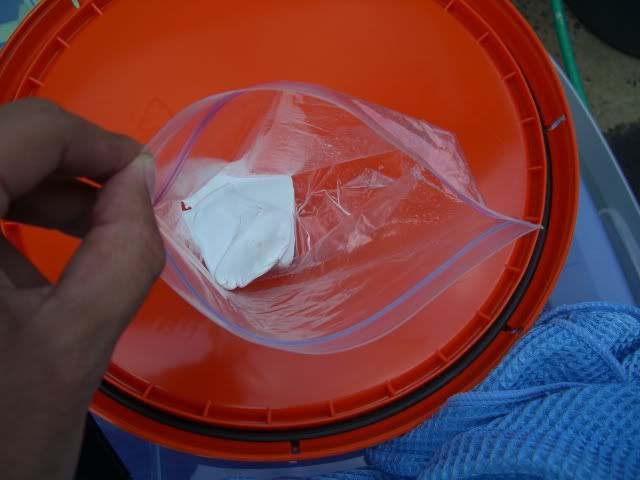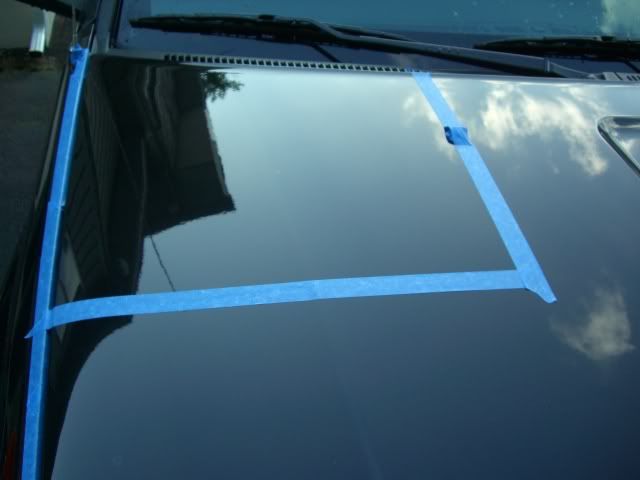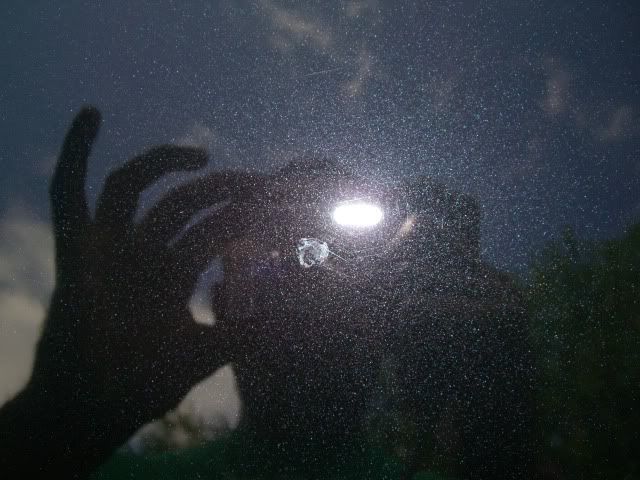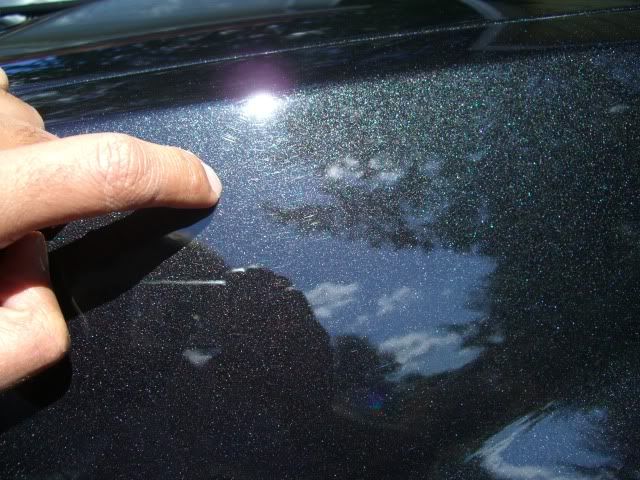 after washing not waxing this is a reflection shot.