Hey, it looks very nice. I see it has a modified exhaust, coming out in front of the rear wheel. You might want to confirm that the exhaust will be okay with your MOT. Presumably. it has been approved already.
Hi my friend, thanks so much for letting me know that! I didn't realise. He said there 2 exhausts but I was scratching my head as my novice eyes literally can't see em
But I'll ask him. Also there one other that's very tempting indeed man! I added it on Seakir's response but here it is as well to make things simple: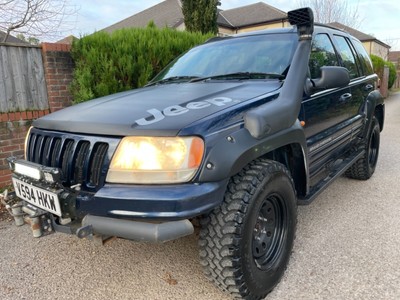 SO THERE WE ARE! WELL WORTH TRAVELING TO VIEW, WE CERTAINLY DON'T THINK YOU WILL BE DISAPPOINTED. ONLY REASON HE SOLD IT TO US IS TO PUT MORE FUNDS INTO HIS FORD COSWORTH BUILD. THE JEEP HAS ALSO BEEN FITTED WITH AN LPG SYSTEM WHICH IS WORKING AS IT SHOULD, MAKING IT MUCH CHEAPER TO RUN!
Really appreciate the heads up about the exhaust I wouldn't have known. & glad you like her. Either Road I choose they both look amazing but one is more finished. I just wish with all I got going on that this 4.7 was complete. But as Seakir's said if it is just a Prop Shaft issue I could be very fortunate & have This at a great price & I need that now. It's down to, do I want something complete or softer on the pocket. I'm torn but i'll take a moment & think it through. I'll come back to see if you both said anything about this 4L! Thanks so much mate!