I just got done installing Mopar stainless steel gas and brake pedal kit.
Wow what a project! My arms feel like I just reeled in a 50 lb tuna!
The gas pedal was easy.. It just clipped on after about 5 minutes of wiggling.
The brake pedal was another story. I read in Amazon reviews a recommendation to first soak the brake pedal in boiling water.
I let them soak.. Then tried to pry it on using a flat head screwdriver for 10 minutes.. Then I soaked it again in boiling water... The another 10 minutes of wrangling.
Finally I soaked it one last time. This time I first starter with top right side, then bottom left... Then bottom right... So close!! Finally I was able to slip the screwdriver under the top left side and pried it on. I actually couldn't believe I got it on for about a minute.
Here is a pic of mission accomplished: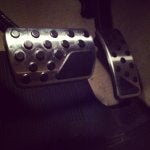 All in all it was an awesome mod for about $60. Super cool and sporty looking!!
BTW this is the link on Amazon where I bought them:
http://www.amazon.com/DODGE-DURANGO...57&sr=8-1&keywords=Jeep+brake+pedal+stainless